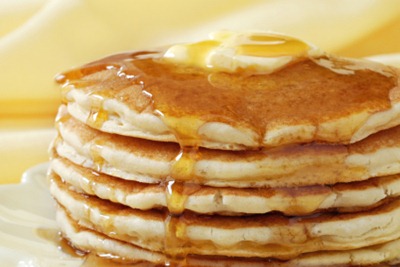 Did you know that February 26, 2012 is National Pancake Day?  You read that right…National Pancake Day!
O how I love me some pancakes!  So I thought I would (1) share a family pancake recipe, (2) share tips on how to cook a light and fluffy pancake and (3) tell you where to find free pancakes for a great cause.  So let's get started! 
Up first is:  The recipe.
My husband does not cook often, but when he does he can make some yummy stuff.  One of his gifts is making pancakes and one of the best times to eat a stack of warm golden goodness is on Sundays mornings.  Do you see how this will all workout?  Mom gets the kids ready and dad is in the kitchen cookin'.  What a way to start a day!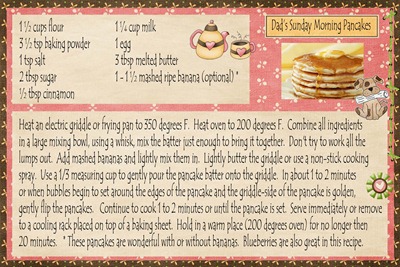 Please see "Introducing Digital Recipe Cards" for printing instructions and gift ideas for the recipe card above.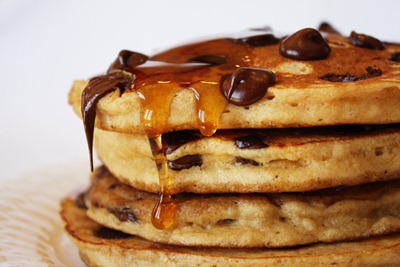 Next on you list is:  Tips on how to cook a light and fluffy pancake.
Fluff your flour with a spoon before measuring it.  Flour that sits in a container compacts over time, which means if you don't fluff it up before measuring, you might be adding too much to your recipe.  Too much flour offsets the balance of dry to wet ingredients and the result is dry pancakes.
To keep your recently fluffed flour fluffy, use a large serving spoon and spoon your flour into your measuring cup.  Next, sweep the top of the measuring cup with a knife to level it.
Don't overbeat your pancake mix.  The batter will and should be lumpy even before adding fruit or nuts.
Make sure the griddle is hot but not too hot.  Temperature is another key in getting light, fluffy pancakes.  If the griddle is too hot or cold, the pancakes will either scorch or won't rise.  Preheat your griddle, heavy-bottomed nonstick pan or well-seasoned cast iron skillet to 375 degrees F or until a drop of water dances across the pan.
Lightly coat the hot pan with vegetable oil, cooking spray, or clarified butter (regular butter burns too quickly).
Don't mess with the pancakes too much.  Let the pancake sit on the griddle and grow and rise by itself.  Don't shake the pan or move it, as that will prevent it from rising.  Let the batter do the work sitting on the pan and flip the pancake just when it starts to bubble on top.
Only flip the pancake once.  You can cheat a little, and check underneath and see if you have the ring and if it's golden brown.  But don't flip it too early and flip it back, over-flipping causes the pancake to deflate.
While you're impatiently waiting for the second side to cook, resist the impulse to press down on the pancake with your spatula.  Pressing will not cook it any faster and will undo all the effort you've made to achieve fluffy, light, perfect pancakes.
Do a test run with one sacrificial pancake and adjust the temperature up or down as needed. If your pancake is scorched on the outside and raw on the inside, turn down the heat.  When you're satisfied that you've reached the perfect pan temperature, ladle in as many pools of batter as your pan will comfortably hold, leaving a little room between pancakes for comfortable flipping.
Pancakes are best eaten fresh from the griddle so you can enjoy their fluffy warm goodness.  This may mean serving them a few at a time.  If you absolutely must keep the pancakes waiting, arrange them in a single layer on a cooling rack placed on a baking sheet and store them, in a warm 200 degree oven.  You want to make sure to use the cooling rack and baking sheet to keep the pancakes from getting soggy on the bottom, the cooling rack allows the air to flow through the bottom of the pancakes.
To add some fun to the breakfast table, use a Wilton squeeze bottle to squeeze batter into designs, initials and other fun shapes.  Pour batter into nonstick pancake molds or oiled metal cookie cutters for an extra fancy touch.  Butter and syrup are classic yummy toppings, but try jam, honey, nut butter, powdered sugar, whipped cream or fresh fruit. Better yet, set up a pancake condiment buffet and let everyone build their own.
You can also create your own ready to go pancake mix, just measure several batches of the dry ingredients and stored in air-tight containers.  When ready to use, shake to combine the pancake mix and add your wet ingredients.
Last but not least on out list is:  Tell you where to find free pancakes for a great cause.
And what restaurant do you think of when you think of "pancakes"?  IHOP!!!  Since beginning its National Pancake Day Celebration in 2006, IHOP has raised nearly $8 million to support charities in the communities in which it operates.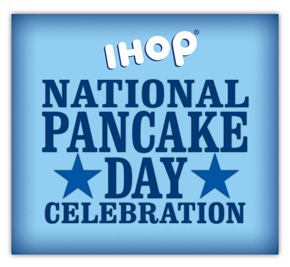 On February 28, 2012, guests from around the country are invited to celebrate National Pancake Day at IHOP and enjoy a free short stack of Buttermilk pancakes.  In return for the free pancakes, guests are asked to consider leaving a donation for Children's Miracle Network Hospitals© and other designated local charities.  Click on this link HERE to find an IHOP near you.
I would love you see your pancake creations and toppings and recipes!