Sorry, I know this is last minute.  We have been extremely busy over here as I am sure everyone has.  But, I think you're going to LOVE this!!!
I've teamed up with my husband and together we created an editable Valentine's Day S'more label… you heard me right, you can now edit "Emily needs" and "friends like you!" to say whatever you want yourself.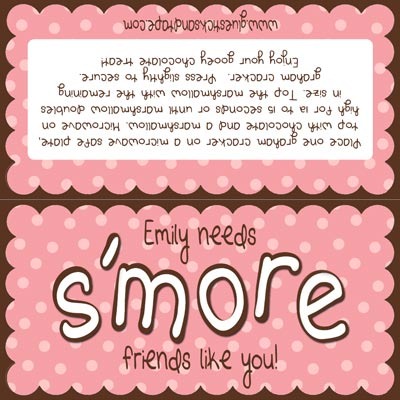 Because we completed this project just in the nick of time I'm sorry that I don't have a completed craft project picture to add to this post right now.
But… picture it!  This cute Valentine's Day S'more topper on a 4" x 9.5" Wilton treat bag, with a heart shaped peep or large marshmallow with a snack size Hershey bar and graham crackers.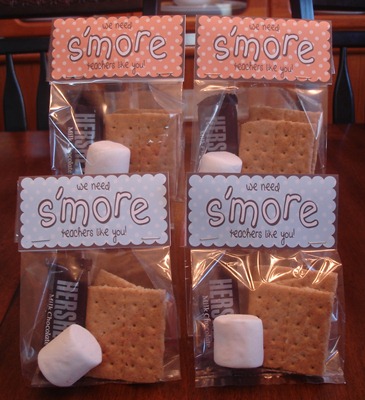 The picture above is an example of the Fall and Christmas s'more that we made.  Click here to see step by step instructions.
******************************
Before you begin editing and printing.  Not everyone may have the font "Brick by Boring Brick"  in there font files, so if you don't, I have supplied the font download here.
How to edit and print:
Click on the image below and the image will open in Google Docs.  On the upper left hand side of the image page click "File" and then click "Download Original" which will then open the file in "Adobe Acrobat Reader".
Click on the two editable fields on each topper.  There are two toppers to a page.
Once your done editing, on the upper left hand side of the image page click "File" and then click "Print".
Your printer options page will come up, make sure that the "Page Scaling" is set to "NONE" and then click "ok" and your printing will begin.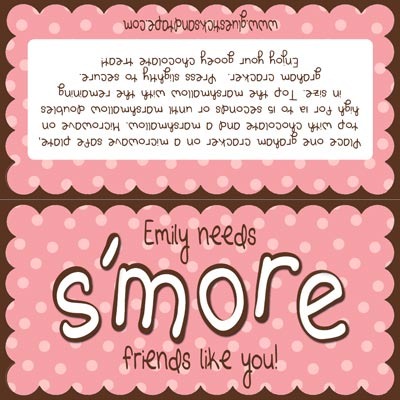 I know it sounds like a lot of steps but I promise you that it isn't.  Just want to make sure that no one has any problems printing.  Please contact me if you do.
I would LOVE to see pictures of your Valentine Day s'more! 
Happy Valentine's Day!