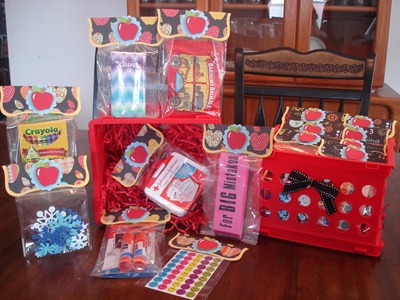 Emily is headed back off to Discovery School soon and to start the year off right I made a little gift for her teacher and teachers aid.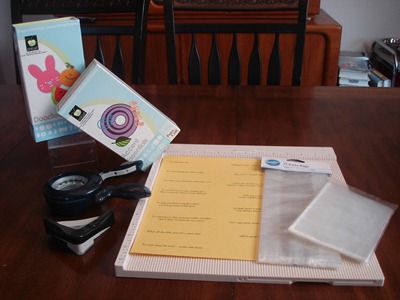 This time I did use my Cricut.  I really try to not use my Cricut for craft making on this blog but everything I did make with the Cricut can easily be made without it.  You'll see and understand better in a moment.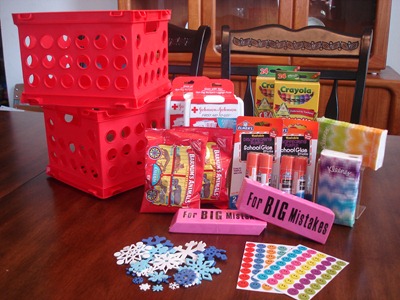 Here is a supplies list:
Doodlecharms Cricut Cartridge for the apple, (optional) you could use dimensional stickers
Accent Essentials Cricut Cartridge for the toppers, (optional) you could cut rectangular pieces of paper and round the corners for the toppers
score board (optional)
corner rounder
2" scallop circle punch
Wilton 4"x 9.5" Clear Party Bags
Wilton 4"x 6.25" Clear Treat Bags
Coordinating Card Stock and Ribbon
An assortment of school  supplies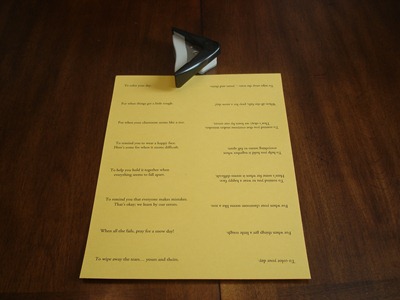 I found an awesome list of "Teacher Survival Sayings" here on Kim Korner's blog. 
In MS Word type out the sayings you want making sure not to go more than halfway across the page otherwise the sayings will not fit onto the backs of the toppers.
When you print the sayings, print like normal and then turn your paper around and print it again.  You'll end up with sayings facing the correct way and sayings facing upside down on the same side of the paper (see above).
Here is a list of the sayings I used:
Crayons - To color your day.
Giant Eraser - To remind you that everyone makes mistakes.  That's okay; we learn by our errors.
Glue Sticks - To help hold it together when everything seems to fall apart.
Tissues - To wipe away the tears…yours and theirs.
Animal Crackers - For when your classroom seems like a zoo.
Mini First Aid Kit - For when things get a little rough.
Smiley Face Stickers - To remind you to wear a happy face.  Here's some for when it seems difficult.
Snowflakes - When all else fails, pray for a snow day!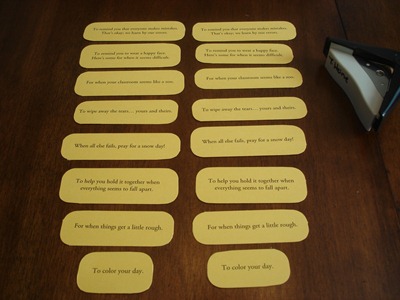 Cut the teacher survival kit sayings into strips and use the corner rounder to round the corners.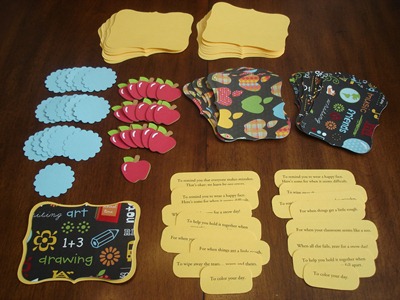 Using the Accent Essentials Cricut cartridge, cut out 16 yellow toppers at 3 3/4" and 16 school themed toppers at 3 1/2". 
Using the Doodlecharms Cricut cartridge,  cut 16 apples at 1 1/2".  Each apple has three layers and a little white insert for the "shine" on the left side of the apple. 
Using the 2" scallop circle punch, punch out 16 light blue circles.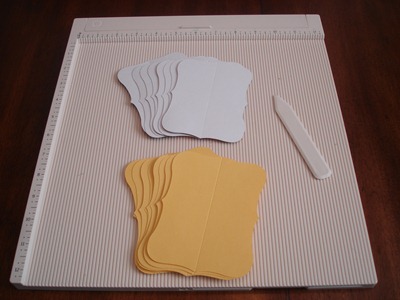 Use the score board to score down the center of the toppers length wise.
Fold and adhere school themed toppers to yellow toppers and attach the teacher survival kit sayings to the back.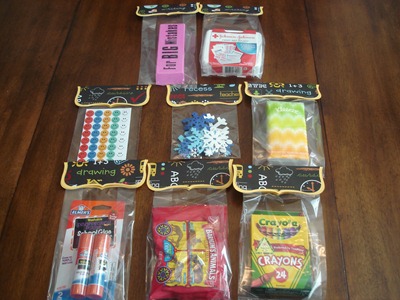 Staple the toppers to the goodie filled bags.
Adhere the scallop circles to the toppers and the apples to the scallop circles with foam adhesive circles to give the toppers a cute dimension.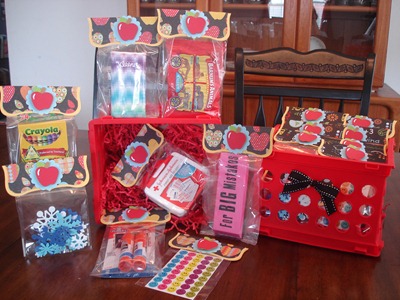 And there ya go!  A budget friendly, useful teacher survival kit that any teacher would love. 
"Fine Print"  This survival kit was teacher reviewed and teacher approved by Emily's past Discovery School Teachers. 

Where did I get all these items and how much did it cost?
Red Crate from Walmart - $1.75
Crayons from Walmart - $.80
Mini First Aid Kit from Walmart - $1.00
Glue Sticks from Walmart - $.40
Giant Eraser from the Dollar Tree/Dollar Store - $1.00
Mini Tissue Pack - had on hand
Animal Crackers - had on hand
Snowflakes - had on hand
Cost $4.95 a teacher!  Awesome!
By the way, the Giant Erasers from the Dollar Tree works amazingly!  My husband I both used ours while taking college math classes.  Oh those math problems, what a headache and TONS of erasing!