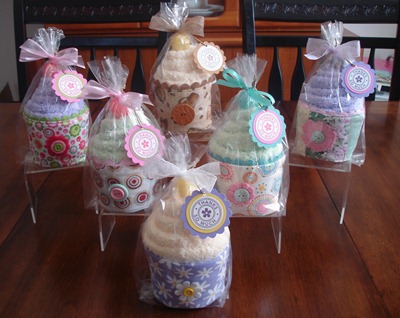 How much do you love this guilt free, completely usable, 3-in-1 gift?!
3-in-1 you say?  Let me brake it down for ya. 
Lollipop as the cupcake topper
Spa Socks/Fuzzy Socks as the frosted cupcake
Coffee cozy as the cupcake wrapper.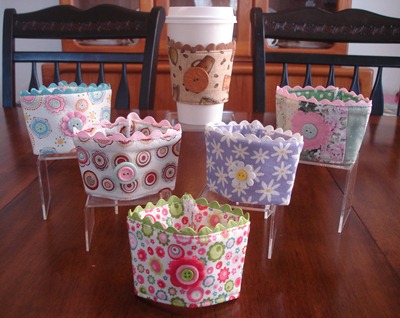 Pattie McKissic from StudioMoi has an Esty shop and she makes these super cute Coffee Cozies, as well as Microwave Mitts and Clothing that fit American Girl Dolls.
I choose Pattie's coffee cozies over other cozies for several reasons.
The simplicity.  The coffee cozy is one whole piece that easily slips on and off the cup.  There are no button and loop closures or Velcro to fumble with to potentially spill your drink.
The attention to detail.  Pattie has added several cute details to her cozies such as colorful rickrack, coordinating buttons and felt flowers that have hand stitching on them.
The Price.  Pattie's prices are the best out there.  Coffee cozies are $6.00 and $8.00 for ones with multiple pieces of fabric sewn together like the one in the upper right hand side of the picture above.
And finally, the many styles and colors.  Pattie has a wide selection of colors, themes and prints to choose from.  I am sure you will find something to fit your taste.
Each coffee cozy features a heat reflecting lining that keeps the heat in the cup and cool in your hand.  The cozies fit 12 oz., 16 oz., 20 oz., and 24 oz. cups.  Each cozy is machine washable and lay flat to dry.  So, go green in style and keep this cozy in your purse and ready to use the next time you order coffee.
NOW FOR THE CUPCAKE TUTORIAL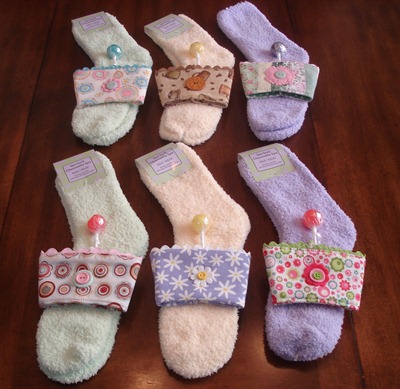 Here is a supplies list:
Coffee Cozy from StudioMoi
Spa Socks/Fuzzy Socks.  I bought mine at Michael's for $2/pair.
Lollipops
1 1/4" circle punch
1 1/2" circle punch
2" scallop circle punch
Wilton 4" x 9.5" Clear Party Bags
Stamp, ink pad, paper and ribbon of your choice
Remove the paper label and any other clips and plastic tags that might be on the pair of socks. 
Starting at the toe, roll the pair socks up making sure that each layer that forms is just slightly below the layer above it.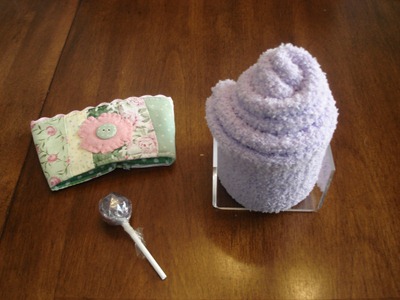 The rolled up pair of socks should look like this.  This will be your "frosted cupcake"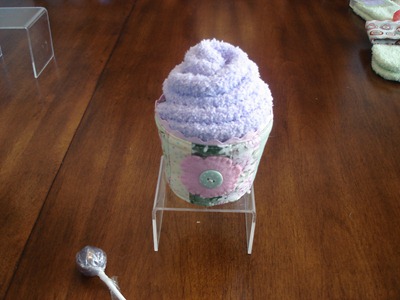 Insect the "frosted cupcake" sock into the coffee cozy which will be your "cupcake wrapper"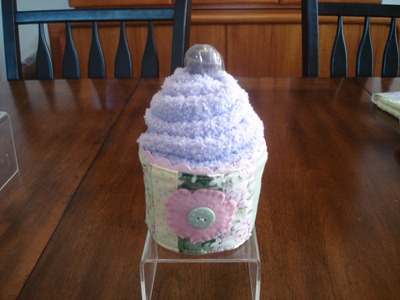 Insert the lollipop stick into the center and this will be the "cupcake topper or cherry".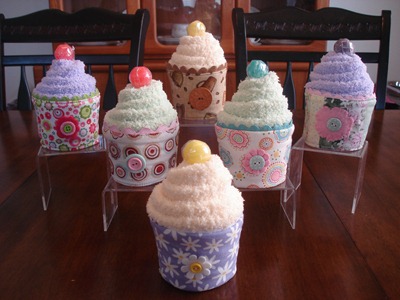 So easy, so fast, so cute and so many options!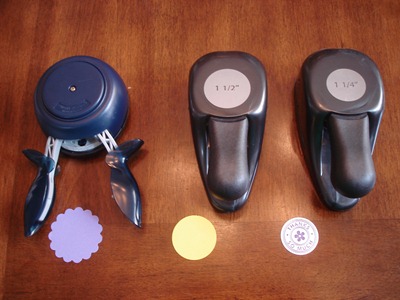 To make the tag, I used a 2" scallop circle punch, a 1 1/2" circle punch and a 1 1/4" circle punch.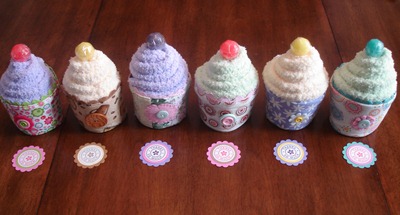 Make coordinating tags for each cupcake.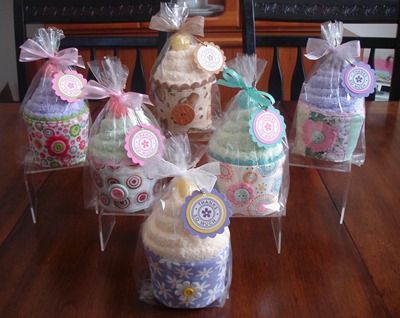 Place each cupcake into a Wilton 4" x 9.5" Clear Party Bag, attach tag and tie closed with coordinating ribbon.
These cupcakes will make great gifts for moms, teachers and anyone who loves hot chocolate, coffee or tea from their favorite java joint.
I am linking up with these link parties, come on over and visit!