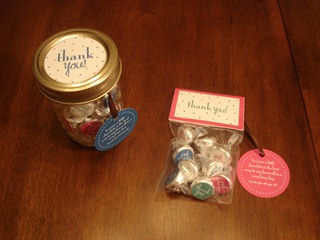 Love, love, love this teacher appreciation gift!  So I was up late one night franticly looking for teacher appreciation gift ideas since I am running late on making crafts and blogging due to being ill, and… I came across this…MeckMom's Etsy Store!  It's a "Thank You Gift Printable Set".

For only $4.95 you will receive a three page digital file of beautifully colored printables that are yours to keep and can print and use as many times as you would like.  You really must go look at MeckMom's Etsy Store she has several very cute printable sets!

Here is a supplies list:
MeckMom's Thank You Gift Printable Set

3" x 4" craft bags from any craft store

small half-pint canning jars

 

2" and 3/4" circle punch

glue dots or glue stick

Hershey Kisses

coordinating ribbon

paper cutter or scissors

stapler

Step1: you will need to print the 3 page "Thank You Gift Printable Set" onto white cardstock.
Page 1 has 64  3/4" Hershey Kiss tags.
Page 2 has 12 cupcake and/or jar toppers. 
Page 3 has 2 coordinating thank you cards, 2 baggie toppers and 2 tags that read:
Because a little chocolate is the best way to say farewell to a very long day.  Thanks for all you do!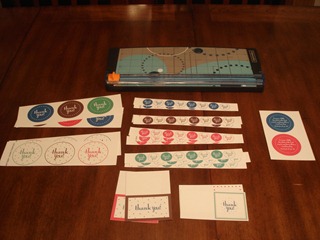 S
tep 2: Cut the rows of circle from each page into strips.  Cut out the thank you cards and toppers using the light grey lines as a guide as to were to cut.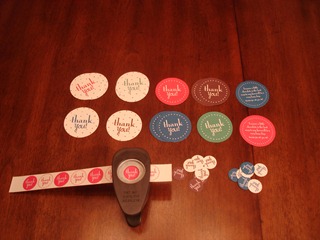 Step 3: Use the 2" circle punch for the cupcake and/or jar toppers.  Use the 3/4" circle punch for the Hershey Kiss tags.  The Hershey Kiss tags also fit nicely on Rolos and bite-size Recess Peanut Butter Cups!

Step 4: This step can be done 1 of 2 ways!  You can lay out a strip of glue dots and place the Hershey Kisses onto the glue dots and then attach to turned over tags OR place the tags onto the glue dots and attached to the Hershey Kisses.  Both ways worked well for me! 

Step 5: Assemble your baggie or jar.
For baggie: place 9 to 12 Hershey Kisses into baggie, attach circle tag with saying (optional) and baggie topper with staples.

For jar:  place a heaping handful of Hershey Kisses into jar.  Attach circle tag with saying with ribbon around the neck of the jar.  Use glue dots to attach  the thank you label to the top of jar.

And there ya go!  Super fast, super easy, super cute!
Thanks again to MeckMom's Etsy Store.  Please make sure to visit and follow her blog if you like at www.meckmom.com.