First, let me apologize for the awful quality if these photos.  Not quite sure what happened.  I will retake photos later!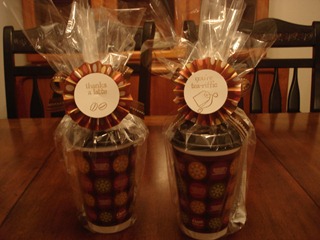 Need a quick Teacher's Appreciation gift or Mother's Day gift to tell your awesome teacher or loving mom how thankful you are that they are apart of your life?  Try these make-your-own cup of coffee or cup of tea sets with yummy chocolates and everything they need to make their own perfect cup of coffee or tea.

This is a great budget friendly gift idea especially if you have a lot of teachers to make gifts for.
Here is a supplies list:
I package Chinet Comfort Cups with lids

1 box of 7 single serving packets of Nescafe Taster's Choice coffee

1 box of 7 single serving packets of Coffee-mate creamer

tea packets of your choice

sugar packets and/or sugar cubes

honey sticks

small package of cookies to go with coffee or tea (optional)

a handful of chocolates for each cup

circle punches in 1-1/4", 1-1/2" and  2"

paper and ribbon to coordinate with Chinet Comfort Cups

a coffee and tea themed stamp set from Jo-Ann Fabrics

brown stamp pad

cellophane wrapping from the Dollar Store

For "Thanks-A-Latte" use a 16 oz. cup with lid, 6 sugar cubes in a small baggie, 2 coffee packets, 1 creamer packet, 1 stir straw and a handful of chocolates. 
I use two coffee packets so that the recipient can make her coffee as strong as she would like.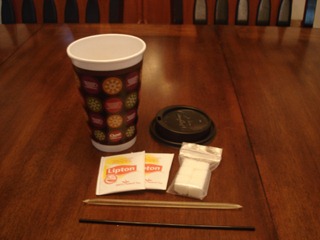 For "You're Tea-riffic" use a 16 oz. cup with lid, 6 sugar cubes in a small baggie, 2 packets of tea, 1 honey stick, 1 stir straw and a handful of chocolates.

To make the small "one lump or two?" tags use MS Word in any font you like, print and punch out with the 1-1/4" circle punch.  Then punch out a 1-1/2" circle from the coordinating paper. Attach to the baggie.

To make the fan, cut two 1-1/2" x 12" strips of coordinating paper.

Attach strips together with glue to make one long strip of paper.

Fan fold paper, the folds are about 3/4" high.

Attach the ends together with a bit of glue to make a circle.

To form into a fan, gently push the top of the folds downwards and let bottom slide outwards.  

Apply a few drops of glue into the center hole and hold in place until the glue has dried.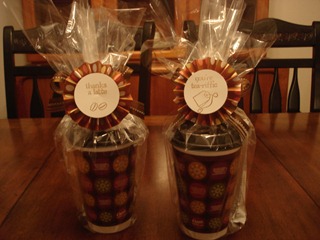 Stamp your sentiments onto white cardstock with brown ink, punch out using a 2" circle punch and attach to fan folded circle with glue.
  
Load your cups up with a handful of chocolates and coffee or tea fixin's.  Put the Milano cookies behind the cup, wrap with cellophane wrapping, tie it closed with coordinating ribbon and attach your tag.  How fast and easy it that?!