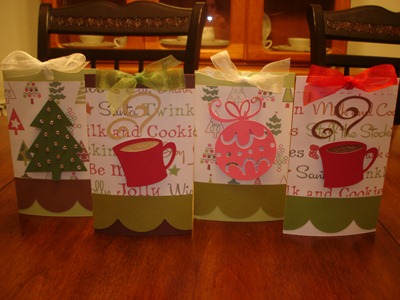 These little Hot Cocoa Sliders are fast, easy and budget friendly!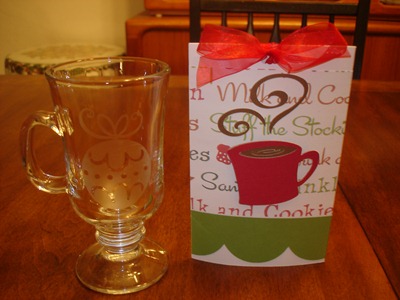 Pair a Hot Cocoa Slider and a Dollar Tree glass mug that you etched and you got yourself a gift set!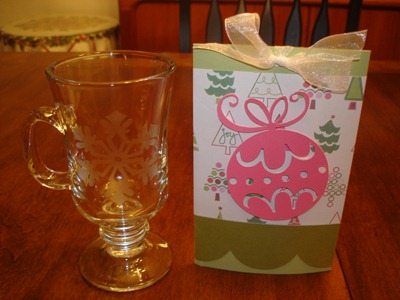 You can use these step by step instructions to make candy bar sliders and microwave popcorn sliders too.
Simply pull up on the bow and out slides a hot cocoa mix.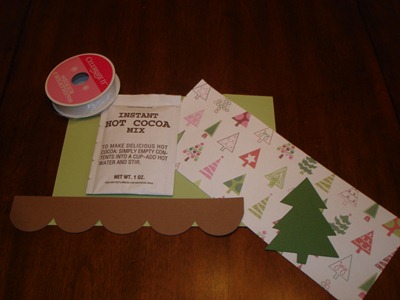 There are no real measurements to this project.  You can be as simple or as elaborate as you like.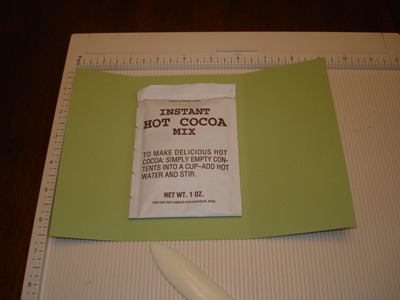 Simply lay a hot cocoa packet onto a piece of paper and leave about a fingers width of room on the top and bottom of the hot cocoa  packet.
Next, leave enough room on the sides of the hot cocoa packet so that you can fold and overlap it just a bit on the back.  On these standard packets I cut my paper 6 3/8 x 9 1/8.
Score down the sides of the hot cocoa packets, leaving a small margin between the hot cocoa packet and score line for wiggle room.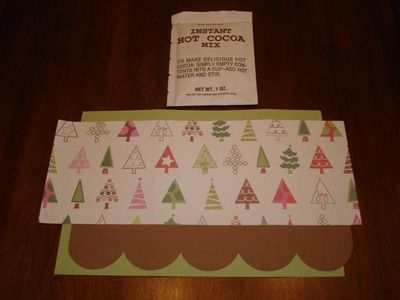 Adhere your decorative paper down.  Notice my brown scallop boarder is a bit off on the left side.  That's ok, it will be hidden when I go to over lap the folds in the back.  It is hard to see in this photo but I was centering my scallops within my score lines which will be seen in the front on the slider.
See here, my scallop boarder is centered between the folds.
Adhere the back over lapping flaps together and decorate the front.
Punch a few holes in the top to give the ribbon room to move freely.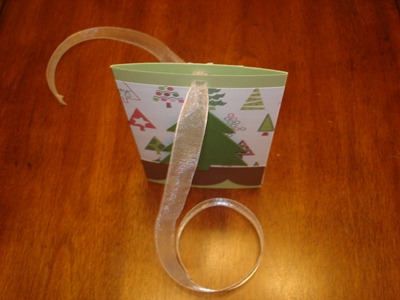 Slide a good length of ribbon into both holes.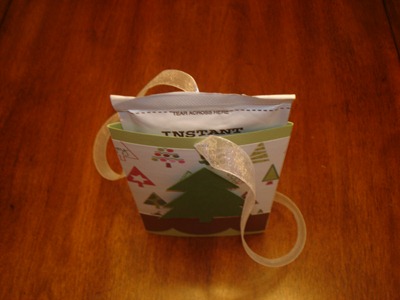 Insert the hot cocoa packet into the slider and on top of the ribbon.  Push the hot cocoa packet down into the slider, you want the ribbon to go down too.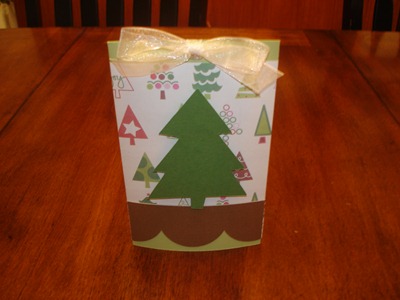 Once the hot cocoa packet is fully inside the slider, tie a bow to close the top with the remaining ribbon. 
To open, pull up on the bow and the hot cocoa packet will "slide" up.  And there you have it… a hot cocoa packet slider.
This method works great for candy bars and microwave popcorn packets too.
I would love to see what you made, please send me a picture and I will post it under the " Crafts By U" section.
Have a Happy Holiday!