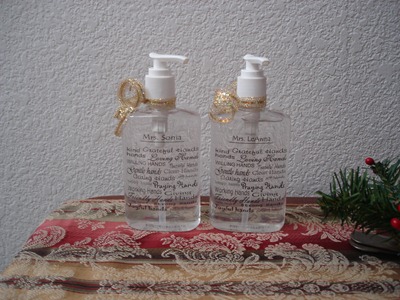 Last year I made a tutorial on how to make your own personalize hand sanitizers and soaps.  Click HERE to see details and instructions.  However last year I did not have the skills or knowledge on how to make an editable template for everyone to use and …. this year I do! 
Now you can choose from a monogram… 

a personalized topper…

or a general label.

How awesome is that?!
How to print:
Click on the image above to print the transparency of your choice.
On the upper left hand side of the image page click "File" and then click "Download Original".
Open your download, click on the initial or name that you would like to change.  After you have entered all the initials or names, go to the upper left hand side of the image page click "Print".
Next your printer options page will come up, make sure that the "Page Scaling" is set to "NONE" and then click "ok" and your printing will begin.
I hope you will use and enjoy these printables.  I have put in a lot of time and effort to learn and create these.
Leave me a comment and tell me what you think.
I would love to see what you made, please send me a picture and I will post it under the " Crafts By U" section.