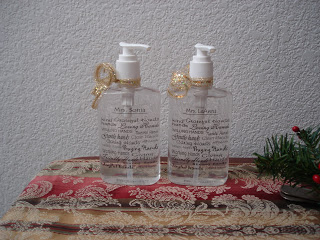 How cute are

THESE
hand sanitizers?!

 

Awfully cute I guess, my husband asked me to make 19 of them for co-workers.

 

I also made a couple for Emily's Discovery School teachers.

 

I did end up making my own temples so that I could personalize the labels with teacher's name and monogram initials and company logo for my husband's co-workers.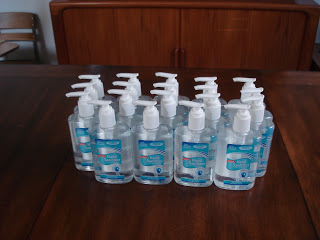 This is a very simple and fast project.

 

I purchased all my hand sanitizers at the dollar store and peeled off the labels, all the labels came off
quite easily.

 

I did have a few that simple refused to be removed but quickly released with the help of Goo-Gone.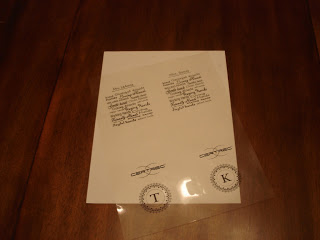 Next, print out your personalized message, saying or quote onto transparency film using a laser printer. If you don't have a laser printer, print your sayings on paper with your ink jet printer and then copy it onto the transparency film using a copier machine. Or, you can take your paper to a copy center or office supply store and they will copy it onto transparency for you for about dollar.

 

You cannot use your ink jet to print on the transparencies; it will run when inside the hand sanitizer or soap.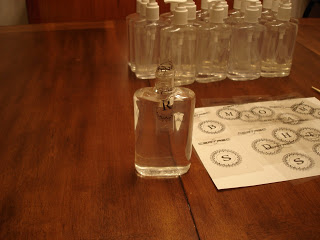 When cutting out your label, cut close to the print on the top and sides, on the bottom of the label leave a boarder of transparency near the bottom so that you can trim as needed to make sure your label will sit at a nice height in the bottle.
Roll your label up so that the print is facing you and stick it into the top of the bottle.

 

You can use the dispenser to push the label forward to the front of the bottle and to center it.

 

I used a chopstick to do this because it was longer.

 

Also once you get a label inside the bottle you are never going to get it out again so make sure your label is facing the right way.

 

Trust me on this one!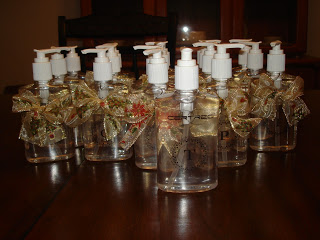 These are perfect gifts for teachers, baby showers with babies name, co-workers, friends and neighbors.

 

Make a few extra for those unexpected guest.

 

You are NOT limited to just names, saying and monograms.

 

You can print cute black and white clipart and fun borders too.
Oh, I forgot to mention, use any program you want or have to make your label designs.

 

I used a very old card making software that came with one of my printers and MS Word.
In the future I will try and make downloadable temples.

 

But this being my first blog and all, I am not sure how to do that yet.