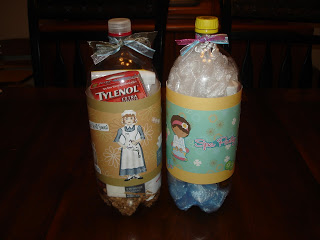 I love making these coke bottle gifts.  People always ask "how did you get that in there?" and "how do I get it out?"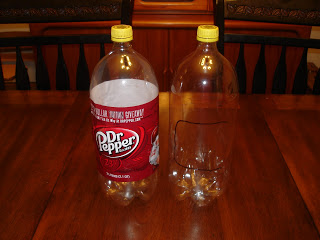 First remove the label from a 2 liter soda bottle.  If you have glue residue it can easily be remove with a bit of Goo Gone.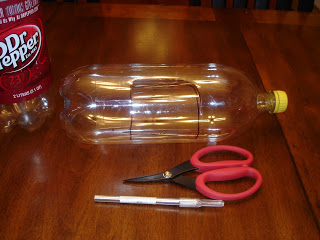 Next cut a sideways U shape door in the bottle.  I usually make my door about 3 ½ inches high and 3 ¼ inches wide.  Make sure that your door is shorter in height than the original label that was on the bottle.  I do this by putting two small marks on the bottle where the top and bottom of the original label use to be.  You can remove the black permanent marker by wiping the area with fingernail polish remover and a cotton ball.
Fill the bottle with whatever you like.  For Thanksgiving I filled bottles for teachers with their favorite candies and snacks like peanuts and pretzels.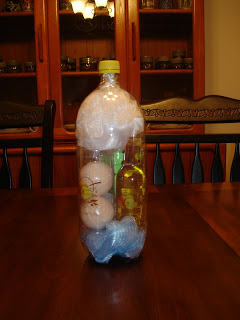 Today I have a "Spa Day Kit" filled with foaming bath balls, bubble bath, a pedicure/manicure nail set, two net bath sponges and a face mask.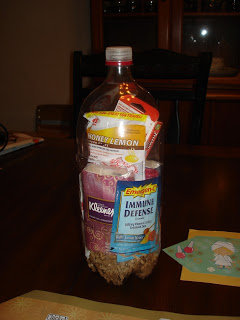 The other is a "Get Well Soon Kit" with Emergen-C vitamin packets, Tylenol, cough drops, Kleenex tissue packets and Lipton soup packets.      
After the bottle has been filled, you can secure the door with a small bit of clear packing tape.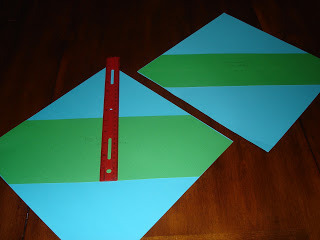 To make the large main label take a 12 x 12 piece of paper and set it in front of you to make a diamond.  Draw two lines horizontally that are 5 3/8 inches apart.  The green paper in the photo is what your label should look like.  Make the smaller label using the same process with the horizontal lines measuring 4 inches apart.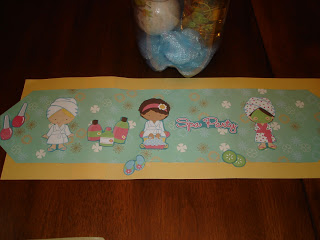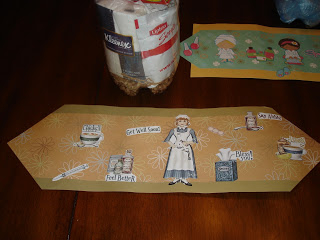 After your labels are cut you can decorate them and then attach them to the bottle with adhesive.   
Add some ribbon to the top and you're done!