These flowers will never wilt but their centers will be eaten!  These flowers came about because I was looking for a fast but cute way to make lollipop flowers a bit more grownup looking.  I had intended to make them for Valentine's but ended up with a Father's Day arrangement instead because the only plant holder that I could find around the house was this blue and tan one.  Funny how you can start with one craft project in mind and end up with another. :o)
Dum Dums Lollipops
Green Ribbon
Hot glue gun
Flower pot (from the Dollar Store)
Green foam insert for flower pot (from the Dollar Store)
Brown shred used in gift boxes or bags
To start you will need two 5- petal flowers that are about 2 ½ inches in height.  You can do this by tracing a 2 ½ inch flower cookie cutter, finding a template or using a die cutting machine. 
Next fold one of the flowers in half, find the center and make a small cut.  Fold the same flower in half in the other direction and make another cut.  You should end up with a flower center that looks like the picture below.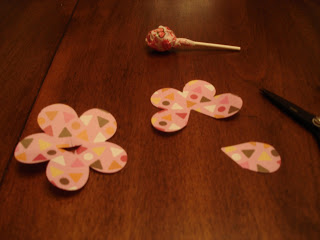 Take the second flower and cut off one the petals by cutting a straight line from the edge of the petal the center of the flower on both side of the petal.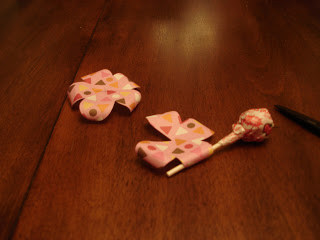 To give the flower a nice dimensional look, roll the petals of the flowers under.  You can do this very easily by using the stick from your lollipop or a pen.  You can also ink the edges of the petals as well.
To make the center of the flower, take the flower that now has 4 petals and fold it over onto itself over lapping two of the petals and hot glue them together on the seam.  Next turn the flower upside down and snip off the point.  You want the whole that you just created by snipping off the point to be big enough to fit the stick of the lollipop into the center of it.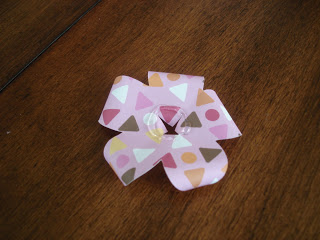 Finally, take the five petal flower and make a hot glue ring around the center above the slits.  Place onto the lollipop stick and press tightly against the three petal flower.
Add a bit of green ribbon for leaves and place in your pot.