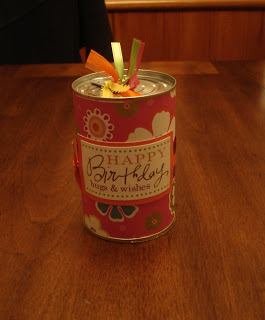 I LOVE these cute little gifts in a can.  I usually fill mine with candy.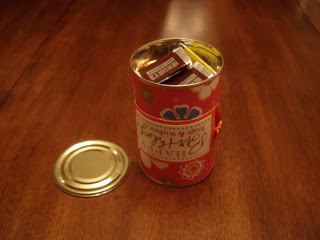 I seem to be on a craft cycling kick with the altered sonic drink holders, the gifts in the coke bottle and now the gift in a can.
These little cans are great for all occasions; Birthdays, Easter, Mother's Day, Father's Day, Get Well Soon, Valentines, Christmas or any other gift giving occasion.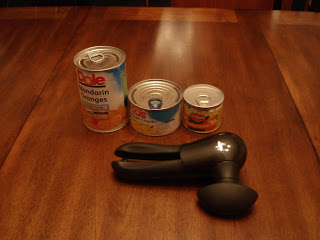 To start you need a "Smooth Edge" or" No Sharp Edge" can opener. 
Smooth Edge can openers open a can from the side, by pressing against the seam and separating the lid from the can, without having to cut it.  This leaves a little groove on the lid which you can fill with glue and attach back to the can to make it look like the can has never been opened. 
Next you will need a flip top can.  I use fruit cans instead of soup or veggie cans.  I find that the fruit cans do not have a lingering smell after they have been washed and dried.  Another great thing about the fruit cans is that they come in 3 different sizes.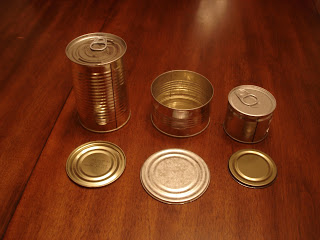 To open your can, flip the can over and open from the bottom.  You do not want to open it using the flip top because this is how the recipient will open it and be surprised to see the gift you have put inside.  Empty the fruit from the can, take a break enjoy your fruit or give it to the kids.  Remove the label.  Fruit can labels seem to come off nice and clean and there is no need to remove any glue residue, it will be covered with the label you are going to make.  Finally, wash and dry your can.
To decorate, just measure and trim decorative paper and ribbons to fit your can and attach using double sided sticky tape or adhesive of your choice.
I found the printable Birthday Wish

here

.  Just copy and paste it into Word and resize as need.  The tag on the can in the picture is 1.7 inches high and 2.82 wide.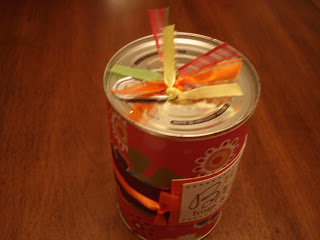 You can carefully attached bits of ribbon to the pull tab on top of the can for added color.  
The final step is to turn the can upside down and fill with whatever you like.  Add a little bit of hot glue, E-6000 or super glue to the rim of the bottom of the can and replace the lid.  Place a book or something with a bit of weight onto the can until dry.  Have fun making and giving these cute gifts away.