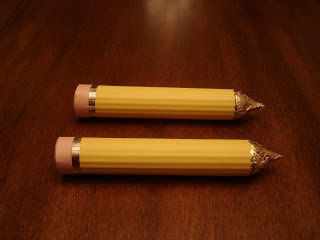 I found these super cute Rolo Pencils on Lori's Blog who found them featured in a Creating Keepsakes Magazine.

 

I liked them so much I thought I would try making them too.
These little pencils could not be any easier to make.

 

Truly one of the fastest crafts I have ever done.
3 ½" x 4 ½" yellow cardstock
3 ½" x 3/8" pink cardstock
Scrap piece of pink cardstock
3 ½" length of silver metallic ribbon
Paper crimper or scoring tool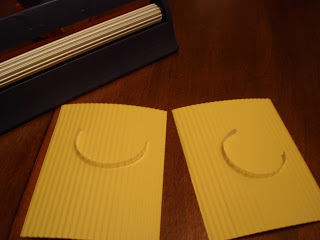 To get started, take the yellow cardstock and put the 4 ½" side of the cardstock into the crimper and crimp.

 

If you do not have a crimper you can score the yellow cardstock every ¼" until fully scored from end to end.  I also crimped the silver metallic ribbon.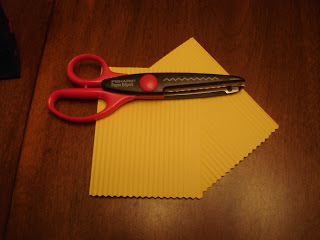 Next, trim one of the 3 ½" edges of the yellow cardstock with zig zag scissors.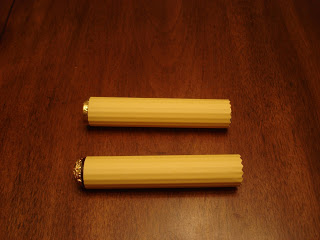 Apply adhesive to the yellow cardstock and roll it around the Rolo keeping the zig zag closed to one edge of the Rolo.

 

You will have some of the Rolo showing on the other end.

 

 

 

 

 
Wrap and adhere the
3 ½" x 3/8" pink cardstock around the end of the Rolo that is still showing.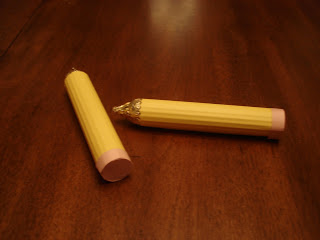 Next, trace around the nickel and cut out the circle to cover the exposed end of the Rolo.

 

This will complete the "eraser".
Wrap and adhere
the sliver metallic ribbon right under the pink "eraser".
Lastly, adhere your Hershey Kiss to the other end of the Rolo and cut off the white kiss tag if it is showing.