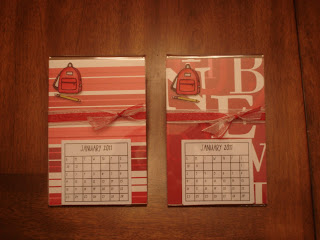 OK, I will stop with the acrylic frames…. but they are so fast and fun to make. 
I thought I would try and be a little different for Valentine's Day and instead of candy I will be giving these little calendars.
To make these and in keeping with a Valentine's Day theme I used scrap pieces of paper that had red and red tons.
You can print the 2011 mini calendars from

here

.
I tied a wide white and thin red ribbon around the front panel of the frame only.  I did this so that the paper will be behind the ribbon for easy switching out of the backgrounds.
I made these double sided by glue sticking to pieces of paper together.  The picture above shows one of each of the sides. 
Lastly, I put on a cute little backpack sticker.  And that was it!