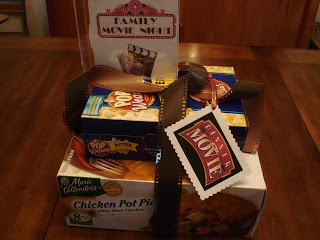 This is a great budget friendly gift for your friends with big families, a sick mom or dad with kiddos at home or a friend that just needs some down time alone.
I got the idea for this gift set when I was at home sick with sick kids.  I was looking for a new movie to capture the attention of both kiddos and I was looking for a fast and easy ways to feed us all.
Some busy families have a hard time going out for dinner and a movie, but you can give them a home style version.  Simply stack up a frozen family sized dinner, popcorn and a movie.  Tie an old film strip around it and add your tag.  You can easily create a dinner and a movie for a whole family for less than $10.00.
For an individual, buy a Lean Cuisine or a Swanson Dinner; add a bag or two of popcorn and your movie.  Total cost would be around $4.00.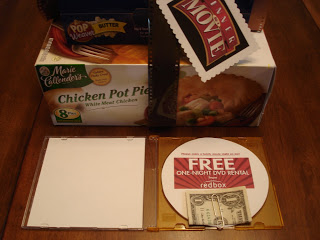 For the movie: Since you may not know what the family would like to see, I do a "Free Family Movie Night on Me from Redbox".  This gives the recipients the choice to choose their own movie.  People who have received my little Redbox gift love it and are now hooked on it.   
A Redbox membership is great. 
It's easy and it's free!  There are no monthly charges, no application fees and no cost to you other than the video rental fee of $1.  You can even reserve a video online before you go to the Redbox to pick up your movie.  Redbox even has "Free Movie Mondays".  That's like a gift that keeps on giving!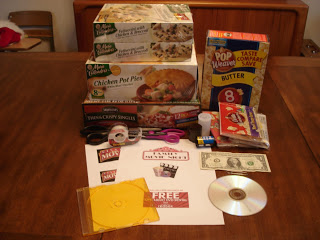 Frozen dinner, the box of 8 Individual Marie Calendars Pot Pies were $8.00

Tape, scissors and a paper clip

Jewel Case or any empty DVD/CD case

A DVD/CD to use as a template

Some very old film I had laying around.  You can buy a four pack of Walgreens brand film for $3.00 
To make the DVD case and gift tag: I Googled "Family Movie Night" "Dinner And  A Movie" and "Redbox" and found images that I liked for the front and inside of the DVD case and tag.  I copied and pasted the images I wanted into MS Word and added "Please enjoy a family movie on me!"  Use the real DVD to draw a template around the Redbox label.  Tape your paper DVD to the center of the case and paper clip a dollar to the bottom.
I used craft scissors to cut out my tag, punched a hole and used scrap ribbon to tie the label on. 
Please email me if you would like me to send you the MS Word doc that I created to make the labels.