Fall is in the air!  Don't you just love the sights, sounds, smells and tastes of Fall.  One of my favorite smells and tastes of Fall is PUMPKIN! 
So to get the pumpkin recipes started here is a knock off recipe of Starbucks Pumpkin Spiced Latte.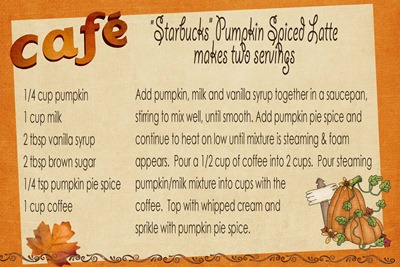 All the yummy with the fraction of the cost!
Please see "Introducing Digital Recipe Cards" for printing instructions and gift ideas.
I would like to know… what are some of your favorite Fall or pumpkin recipes?