Here is my twist on a Valentine Favor Box.  These are fast and easy to create especially if you have a lot of Valentine's to make at one time.   


Here is a list of supplies:

10" x 2 1/2" cardstock

decorative paper

paper cutter

decorative scissors

small 3 1/2" x 2" plastic bags

ribbon

M&M's

stapler

adhesive
Score and fold the card stock at 1", 5" and 6 1/4".
At the 6 1/4" fold, go down another 7/8 of an inch and make a 1 1/2" square.  I do not have a square punch so I used my paper cutter to cut out a square.
Next place the top of the plastic bag right under the 1" fold.  Fold the flap down and staple near the top of the fold.
Tuck the end of the last section under the 1" fold for a matchbook effect.  
To decorate the top,  cut out a 1"x 2 1/2" piece of decorative paper.  Trim the bottom of the paper with decorative scissors and adhere into place.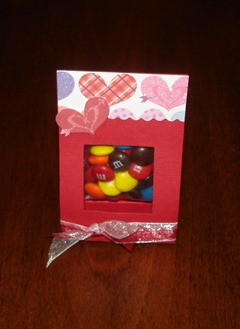 Tie a bit of ribbon on the bottom and you have a pretty cute little favor!